Regular price
Sale price
$65.00 USD
Unit price
per
Sale
Sold
As art of OHM's Alice in Wonderland collection, this OHM design combines two ideas from Lewis Carroll's magical masterpiece: the Cheshire Cat's grin with the White Rabbit's pocket watch.
Alice is dozing lazily on a riverbank, when suddenly a white rabbit with pink eyes scurries by. That's not so unusual, thought Alice; but then, the worried rabbit pulled a brass watch from the pocket of his vest and muttered to himself, "Oh dear, oh dear, I shall be late!" Now that IS unusual, and Alice couldn't resist following the rabbit until she tumbled head over heels down a long, deep hole.
It just got stranger from there. Alice had entered Wonderland. She was soon startled to see a smiling Cheshire Cat, with long claws and many sharp teeth, perched on a tree branch just above the forked path.
"What sort of people live about here?" Alice asked politely.
The Cat pointed down each path as he spoke, "In that direction lives a Hatter; and in that direction lives a March Hare. Visit either you like; they're both mad."
Alice frowned, "But I don't want to go among mad people!"
The Cat shrugged and slowly began to disappear, starting with his tail and ending with only his smile still visible as he remarked, "Oh, you can't help that; we're all mad here."
And so, as you follow your own WHITE RABBIT to unexpected adventures, and meet your own unusual characters in the Wonderland of your life, simply touch this magical MAD TIME and smile a big Cheshire smile. After all, as the Cat said, it can't be helped. We're all mad here!
Share
Shipping

All orders ship from Washington, USA. View our full shipping policy HERE
Return Policy

We have a 30 day return policy on eligible items. If you are not entirely satisfied with your purchase, we are here to help: READ MORE
Reduce, Reuse, Recycle

We reduce packaging waste whenever possible. Please recycle, or reuse as much packaging material as possible.
Have another question?

Contact us any time, we'll be happy to answer any quetions you have.
View full details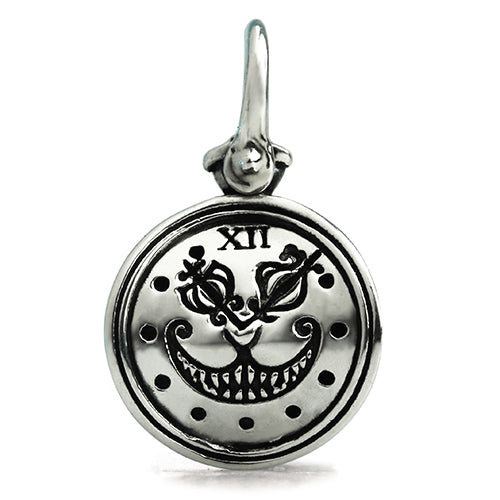 🇺🇸 Always Free Shipping 🗽
All orders ship from Washington, USA. We offer free economy shipping to all US States.
International shipping rates available at checkout. All packages ship with tracking.