Regular price
$103.00 USD
Regular price
Sale price
$103.00 USD
Unit price
per
Sale
Sold
​OHM FAN บีดที่เหล่าแฟน OHM ผู้หลงใหลสไตล์วินเทจไม่ควรพลาดด้วยประการทั้งปวง ยังจำกันได้อยู่หรือเปล่า พัดลมตั้งโต๊ะใบพัดทองเหลือง เปิดแต่ละที ใบพัดส่งเสียงดังเสียดตัดกับลมร้อน โมเดลรุ่นคลาสสิกที่สุดนับตั้งแต่ "ซอยเลอร์ วีลเลอร์" วิศวกรชาวอเมริกันคิดประดิษฐ์พัดลมใบพัดขับเคลื่อนด้วยมอเตอร์ไฟฟ้าขึ้นเป็นครั้งแรก จากนั้นเป็นต้นมา พัดลมก็ได้รับความนิยมแพร่หลายไปทั่วโลก กลายเป็นอุปกรณ์ชิ้นสำคัญในชีวิตประจำวันของทุกครอบครัว แค่กดปุ่ม ลมเย็นก็มาช่วยดับความร้อนให้คลายลง
แม้โลกจะก้าวไปไกล มีแอร์คอนดิชั่นเย็นฉ่ำ แต่พัดลมยังคงเป็นความเย็นราคาประหยัด และไม่เคยตกยุค จากวินเทจดัดแปลงทำซ้ำกลายเป็นของเรโทรย้อนยุค ที่ไม่ใช่แค่ให้ลมเย็น แต่ยังเป็นของตกแต่งบ้านให้ความสวยงามไม่ซ้ำใคร เช่นเดียวกับ OHM ซึ่งได้นำสายลมเย็นพัดกาลเวลาให้ย้อนกลับมาอีกครั้ง กลายเป็นเครื่องประดับของคนมีสไตล์ที่ควรค่าแก่การเก็บสะสม
OHM FAN is something that all OHM fans who love vintage style shouldn't miss. Do you still remember them? Brass fan blades with an open cage, the blades making that distinctive noise, clipping against the hot air. The classic model, the "Soyler Wheeler," was designed by an American engineer invented by using an electric motor propeller fan. From then on electric fans have become popular throughout the world. They have become an important piece of equipment for every family's daily life in Thailand. Just by pressing the button, cool air comes to help cool off from the heat.
Although the world has advanced to air conditioners, the fan is still an affordable cooling option and the style of these vintage designs is never out of date. From home decoration to this unique bracelet beauty from OHM we are bringing the cool breeze to mind. Embrace the vintage adaptation and a retro-style worthy of collecting.
Share
Shipping

All orders ship from Washington, USA. View our full shipping policy HERE
Return Policy

We have a 30 day return policy on eligible items. If you are not entirely satisfied with your purchase, we are here to help: READ MORE
Reduce, Reuse, Recycle

We reduce packaging waste whenever possible. Please recycle, or reuse as much packaging material as possible.
Have another question?

Contact us any time, we'll be happy to answer any quetions you have.
View full details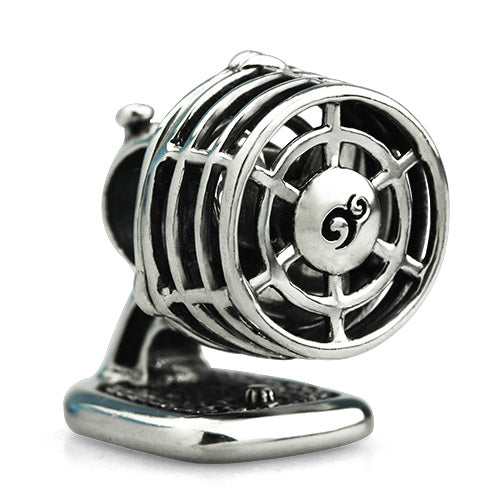 🇺🇸 Always Free Shipping 🗽
All orders ship from Washington, USA. We offer free economy shipping to all US States.
International shipping rates available at checkout. All packages ship with tracking.